AMBULATORY EEG SYSTEM | Portable EEG Device Singapore
AEEG
AMBULATORY EEG SYSTEM
The new NS-EEG-D1-W is a professional digital AEEG device available in 16/24/32/64 channels. This device has a compact design making it portable and can be easily carried while also having low power consumption making it capable of supporting up to 72 hours recording with four AA batteries.
This device is suitable for all standard applications of routine EEG and long-term EEG monitoring. Supports real-time EEG waveform recording and display via Wi-Fi and dynamic recording with Flash memory card.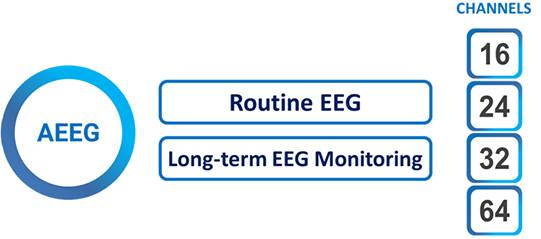 Dimensions & Weights
Size 130 x 89 X 40 mm
Amplifier Weight 250 g (approx)
Power Supply
Power 4 – AA batteries
Operation Time
Duration Up to 72 hours
Performance
Input Impedance ≥ 1000MΩ
Noise level <0.4μV (rms)
CMRR ≥ 110dB
Resistance polarization voltage ± 300mV
Frequency characteristics 0.5Hz ~ 10KHz, error of +5% ~ -30%
Channel Configuration 16/24/32/64 channel EEG, where 8 channels can custom functionality: EEG. ECG. Eye movement, etc.
Sampling Frequency 128Hz, 256Hz, 512Hz, 1KHz, 2KHz, 4KHz, 8KHz
Precision Sampling Resolution 16/24bit
Digital Low-pass Filter Control 15Hz, 30Hz, 40Hz, 60Hz, 120Hz, 250Hz, 1KHz, 3KHz, etc.
Digital Time Constant Control 0.01s, 0.02s, 0.03s, 0.1s, 0.2s, 0.3s, 1s, 2s, 3s, etc.
Amplification 1 – 10,000 times
1. Routine EEG
2. Long-term EEG Monitoring
AEEG Amplifier Features
Integrated Functions:
Signal magnification
A/D transform
Data storage
LCD display
Wi-Fi Data Transmission
Displays:
One channel waveform
Present Time
Collection Time
Storage Capacity
Version Information
Battery Status
 

Bracket Cap

 

Bracket Electrode

 

Bracket Silver Electrode

 

Cup Electrode

 

General Bracket Electrode Cap

 

Net Cap

 

Pre-gelled Electrode Pad (ECG)

 

Silver Ear Electrode

 

Single Cup Electrode Cable
System Key Features
Compact design – portable and easy to carry
Complete with EEG isolation – support maximum patient movement without distortion
User-friendly operation
Low power consumption – capable of supporting up to 72 hours recording with four AA batteries
Supports real-time EEG waveform recording and display via Wi-Fi
Dynamic recording with Flash memory card
All-in-one electrode cable for easy connection
Use of DC power supply
Eliminates risk of electric shock to patients
Prevents signal interference
Removes the need to use ground wire or other shielding features
Fast data uploading capability – stored data in Flash memory card can be quickly transferred to computer through USB 2.0/USB 1.1 Interface
Optional video system – Recording, Editing and Displaying of video synchronously with EEG signals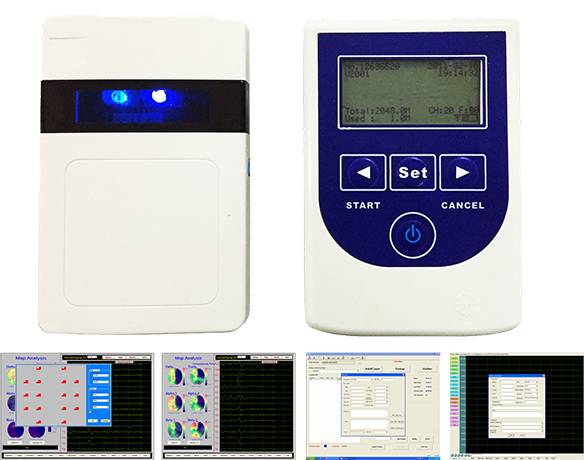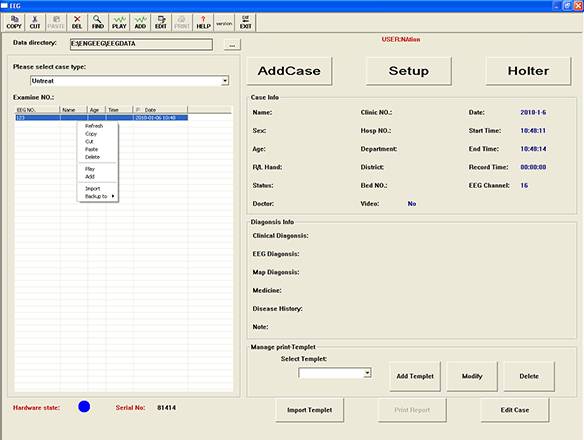 Software Features
Acquisition & Settings
Color of waveforms in accord to color of events
Users can mark waveforms directly with characters
EEG channels can be arbitrarily set-up – customizable channels layout during collection process and playback analysis
Channel editing – Simpler and more intuitive
Events markers during recording – for timing of seizures and abnormal wave occurrences
Event localization feature during playback – marked events are listed and can be traced
Real-time brain tendency chart synchronized with EEG waveforms acquisition
Brain tendency chart:
Energy curve
Peak value frequency
Relative Energy
Absolute Energy
Energy peak frequency
Medium frequency index
Side frequency index
Coma index
Replay & Analysis
EEG Mapping
EEG Tendency Analysis
EEG Spectral Analysis
Brain waves fast playback and fast positioning function
Automatic spike recognition with adjustable spike-wave parameters
User can review EEG waveforms with different combination of parameters and filters
Automatically generates EEG case reports
Customizable print templates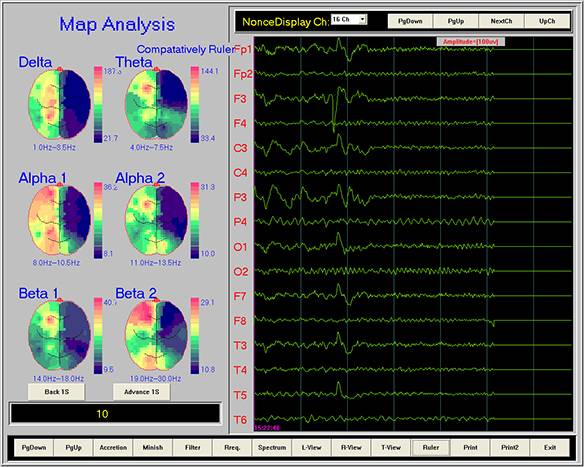 Got a query for Neuro Style Product or Services?